A Modigliani head and a personal performance in Rome for the winners of the 1st edition
The awards ceremony of the 1st edition of the Amedeo Modigliani Foundation Prize, aimed at emerging artists in both traditional and innovative expressions of art, concluded last Nov. 11 in the splendid setting of Villa Tuscolana in Frascati.
The President of the Amedeo Modigliani Foundation, Fabrizio Checchi, outlined the Foundation's goals and activities, namely the popularization of Amedeo Modigliani's life and work and the efforts to combat counterfeiting and speculation about the Master's works, previewing his book The centennial scandal.
Awards were then given to the winners for the different categories:
Painting: Federica Poletti
Sculpture: Johan Friso
Photography: Sara Scarpaci
Installation: Clelia Liberti
Digital Art: Attilio Geva
Literature: Claudia Speziali
The winners of the painting, sculpture, photography, digital art and installation art sections will be given a solo exhibition by the Foundation at its Rome headquarters, formerly the House of Cultures; the winner of the literature section will have her unpublished work published, and all finalists will be given a group exhibition at the Foundation's Rome headquarters.
Also honored with the Amedeo Modigliani Foundation Award were Adolfo Bartolo, director of photography; Francesco Randazzo, writer and director; Samir Al Qaryout, international journalist; Eolo Perfido, photographer; and Carla Modigliani.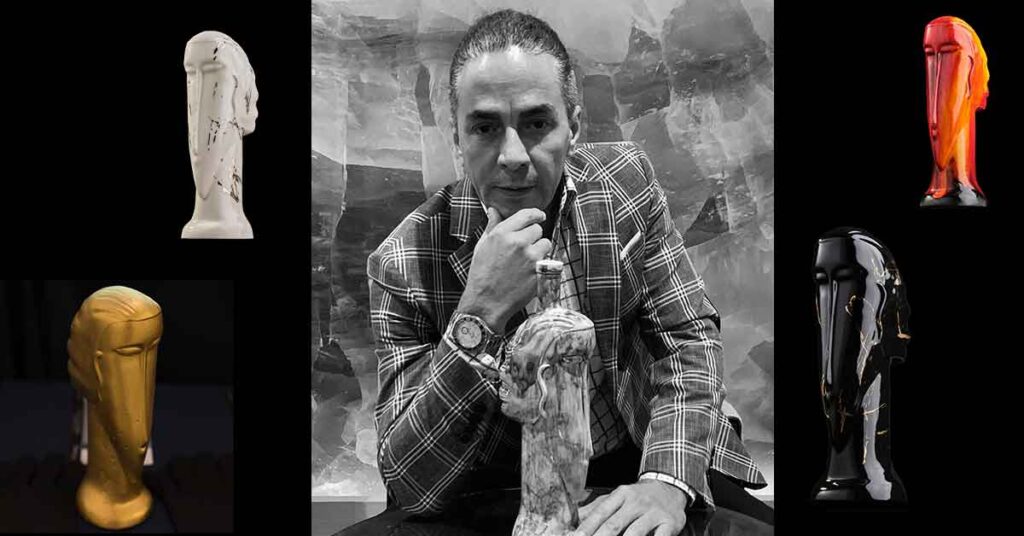 Each of the awardees was presented with a Modigliani head, a handmade, limited-edition sculpture in Valencia porcelain and gold.
The sculptures are a tribute to Master Amedeo Modigliani on the 100th anniversary of his death, made by Fernando Altamirano, CEO and founder of By Verachi Studio, designer of the unique porcelain and platinum, porcelain and 24K gold bottles that contain a special reserve of natural red wine from Vigneron Raphael Pommier, owner of the organic Notre Dame de Cousignac estate, dating back to 1780. Altamirano has created some of the world's most exclusive bottles of wine, cognac, tequila, mezcal and water since 1996.
In late November, the Amedeo Modigliani Foundation will publish the call for entries for the 2nd edition of the Prize.