Fashion designer Francesca Liberatore determined more than ever, decided last February. to present the new A/W 2021/22 collection digitally, despite the fact that as early as February 2020 she was called a forerunner of new film formats fashion with her J-Kolombina-R presented precisely at cinema The Space in Piazza Duomo. Francesca has always shown her attentive side turned to the search for artistic synergies that have led her to engage with different cultural worlds, from cinema to art auctions, from music to photography. A personal portfolio of studies and professional experience including Moulin Rouge, where she has consistently mixed her art with that of major corporations, thanks to her pursuit of unusual and innovative concepts that have allowed her to explore new nuances and reach a wider and wider audience over time.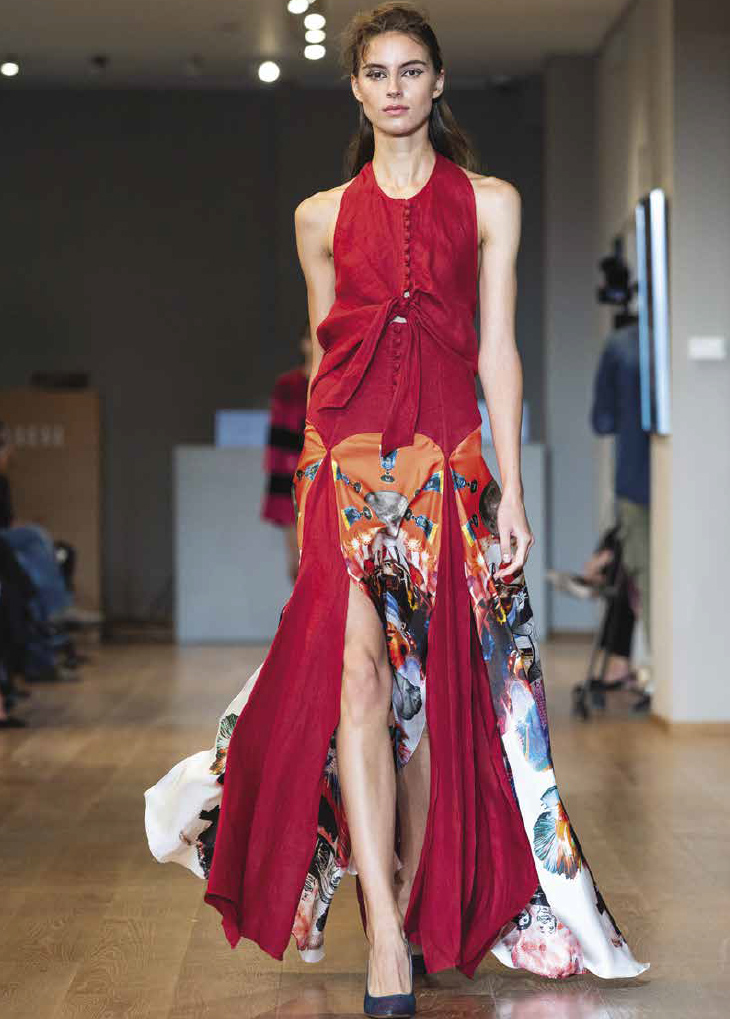 Today the fashion designer is ready to take on a new challenge at MFW in September, so, we just have to wait, considering that there will be no shortage of surprises.
For Fashion Life, we have the pleasure of meeting with her to better understand her choices and evolutions.
In reference to the A/W 2021/22 collection you made a careful choice, what was your consideration of it?
A moral problem has arisen for me. If I had been a theatrical actress, I would not have appreciated the theater turning on its lights for a designer and not for me who work there, for fashion productions to come in and for the workers who normally set up shows there to stay home. So I felt that I should first and foremost sympathize with those who, at that time, could not exercise their passion by working in their place.
How was really your digital parade?
Fashion as a mirror of time had to accept the challenge without shying away from what contingency made us experience or prevented. Mine was not a digital fashion show but the storyboard of what it would be. In a theater my clothes would be actors of themselves recalling from the postwar period the different periods and ways of rebirth. It was therefore the 2D of a true narrative, which 'could be' because creativity does not stop and which 'was so' because we are all in the same boat.
An 'occasion that offered much food for thought and the desire to be present again?
It was interesting commenting on it streaming, for me primarily who normally never see it from the front! But just because fashion and art live by immersion and sharing on September 26, we will be back in attendance. I have dedicated this experiment of mine to all creative people like me who have had to change plans to align with the contingency, to all those who do not need to label themselves as artists, because they know how burdensome this condition sometimes is, to the actors, musicians, and directors, to all those who have not been able to practice their craft, to the photographers, to the makeup team with Markus Theisen, and the hair team with Beppe d'Elia, and finally to theater and film, which because of their greatness and truth cannot be encompassed in this moment.

The designer for A/W 2021/22 collaborated with the Società dei Concerti Foundation, thanks to which international music talents coordinated by President Enrica Ciccarelli Mormone have narrated the fashion show (AW 2021/22) with their instruments. As well as with director and film critic Mario Sesti, with Alessandro Turci lecturer and fashion critic, photographer and videomaker Alice Falco who has always been at Francesca's side. A heartfelt thank you also went to the Fashion Chamber actively engaged in supporting and uniting made-in-Italy designers through the digital fashion show calendar.