FROM HIS BEGINNINGS, TO THE OPENING OF HIS STUDIO, TO INTERNATIONAL FAME: HERE IS THE STORY OF ONE OF THE WORLD'S LEADING INTERIOR DESIGNERS
Pietro Del Vaglio is more than an interior designer, he is a great enthusiast who puts taste, talentand dedication into his work, creating true masterpieces around the world. Pietro Del Vaglio Studio di Progettazione, with offices in Florence and Monte di Procida, focuses on interior architecture and design. Pietro Del Vaglio's signature creations have the characteristic of being able to adapt to the location, the customer's request, the originality of the choice of creations, colors, and lines.
Pietro Del Vaglio, with his absolutely unique works, manages to establish himself in a difficult market, and his innate abilities are quickly recognized. And foreign countries also take notice of him. His first creation, in 1995, will be exhibited in Chicago in the Museum
of Architecture and Design at an exhibition dedicated to the 25 most interesting chairs of the last 25 years, in which they participate,
Philip Stark and Enrico Tonucci, among others. Later, his works are exhibited at showroom openings in Europe, the United States, Japan and Moscow. But his work as an interior designer continued in parallel with his work as a designer with his new studio in Florence, where he moved in the early 1990s and from which came designs and projects for numerous clients, including
well-known show business personalities, such as Anna Falchi. Very fruitful is his activity as an interior designer, thanks mainly to his innovative ideas. Since 2005 he has been making a series of restaurants and private residences in the United States, and in 2006 the publishing house Masso delle Fate published the volume "Abitare le Emozioni," which collects the work of those years. From 2011 to the present, he continues to devote himself to increasingly challenging projects, both in Italy and abroad, always receiving wide acclaim from the industry press. AD Germany also took an interest in his projects, publishing an article in April 2013 about a residence built in Pozzuoli. In November 2014 in the celebratory issue
400 of AD, Pietro del Vaglio is listed among the top 13 interior designers who best interpret new trends in living, thus receiving the definition "of poet of living." Currently his residential designs continue both on the Italian territory and abroad, while he lives and works between Florence and Naples. Numerous homes designed by him have attracted the attention of the industry press: first and foremost, the prestigious Architectural Digest, which published in July 2015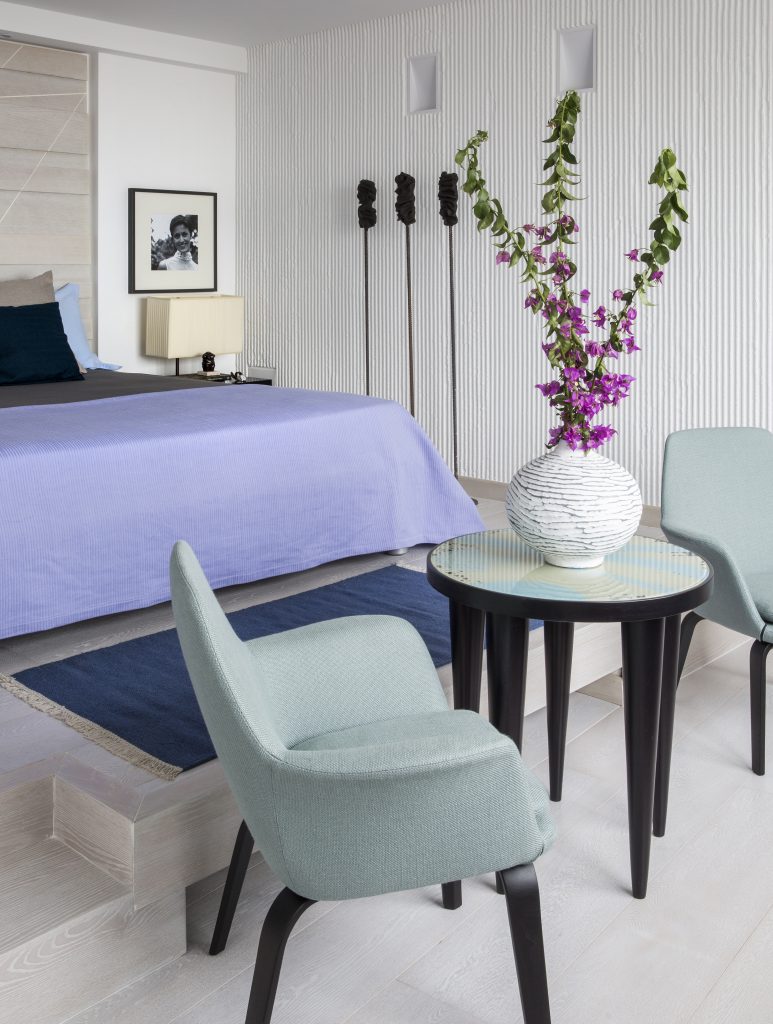 the stunning villa in Capri; in July 2017, another major villa on the island of Elba; and in June 2019, he received AD's third cover with a fine renovation of a house in Naples. Also in the same year, the magazine listed him among the designers who have contributed to the magazine's style over the years. His recipe? Light, color, sense of proportion, and scenic taste. In December 2019, he presented his third book in Sofia, entirely dedicated to a luxury residence built in Stara Zagora. Great interest from the public and the Bulgarian national press, which devoted extensive reports to the event. In 2020 he designed the SEVENZERO chair to celebrate the 70th anniversary of Sanremo, becoming the cover of a well-known weekly magazine on which Artistic Director as well as presenter Amadeus was portrayed. Very focused on hospitality, together with Michele Schiano Moriello, he is making many successful restaurants, boutiques and hotels. The elements present at the basis of his design are the colors of his homeland, an interest in history, with the intention of returning a project with a contemporary dimension, and finding the right compromise between the client's needs and his creativity.