Bret Roberts, is an actor and director, musician and painter, known for May (2002), The Perfect Husband (2014) and Alcoholist (2016). An Anti-Diva par excellence, despite having made more than 80 films, he is not obsessed with social pages. Bret is definitely a talented artist who does not like to put his private life at the mercy of the media. Decidedly versatile in the American film scene, he prefers to be known for his films without having his privacy invaded, absolutely against the grain especially in Hollywood, where glory burns and triggers delusions of omnipotence. Bret distinguishes himself from the other stars of the star system by being and not appearing to be, simply a nice person, a humble and kind guy. The road into the world of painting for the actor began ten years ago, when he was living in Los Angeles, and after his time in Hollywood between parties and rock shows, he decided to make a change of course, to stop with the excesses and embark on a new life path. One of Bret's wishes is to live in Italy.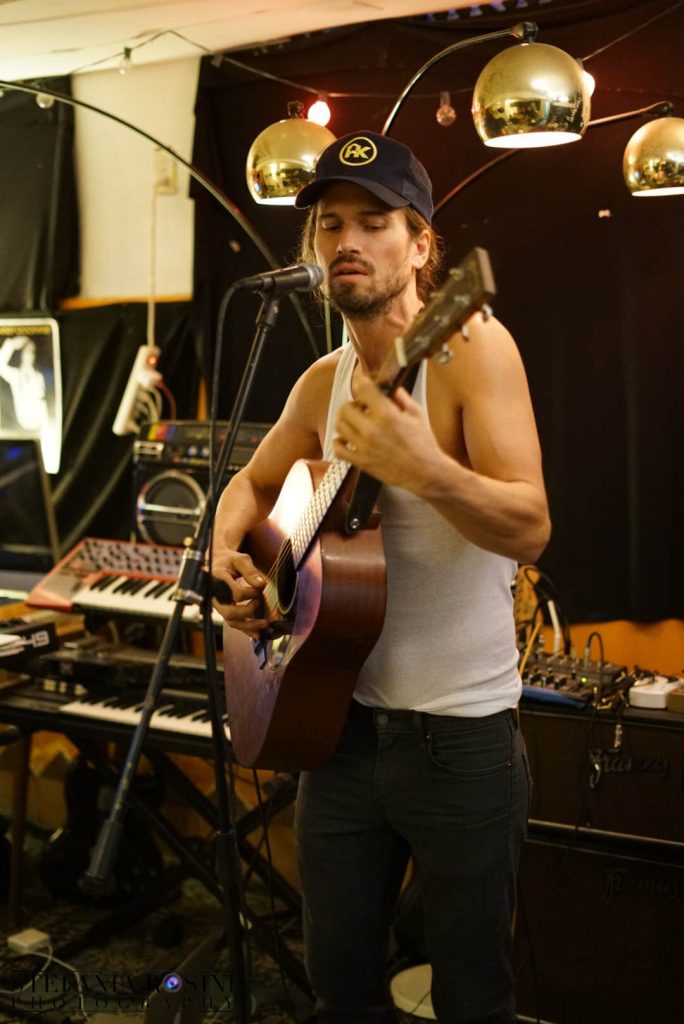 In this interview
Bret
tells his story.
In your journey as an actor and director, an important memory you want to tell us about?
Definitely when I shot The Perfect Husband director Lucas Pavetto in Catania.
Eight years have passed since then, but there is one thing I can't help but remember while waiting to shoot a very emotional scene in a children's hospital (which was partly open) I saw a man coming from a distance, who was there for his son. The man had run across town to join his wife who was waiting for results from doctors. When he arrived, they hugged each other so dramatically, she said something to him, and he collapsed in his chair, exhausted and in tears.After seeing this tragedy, I went to shoot my scene and had no problem in doing so, the emotionality of that moment had made me realize the emotional intensity to be brought back into the scene. Acting is always a magical experience, as real life merges with created life.
The relationship with your family?
My family has always supported me in every moment of my life even when I had difficult times and felt lost they were ready to reach out to me. I am very lucky to have their love
Love for Italy?
Yes, I love everything about Italy, I can't believe how beautiful it can be. A country rich in art, landscapes, and then the people are amazing, my best friends are here. I am very grateful to Stefania Rosini, she introduced me to so many Italian people in Los Angeles. I would be happy to live in Italy, I think soon.
The passion for painting, it was born when?
Exactly ten years ago, I was living in Los Angeles and had to stop drinking. After a turbulent past, ten years in Hollywood, between parties and rock shows, I felt the need to change my life. It wasn't easy, after that turbulent period, I felt lost, didn't know what to do with myself and couldn't sleep at night, until my painter friend Jesse Cilio insisted, in telling me that I should start painting. He came to my house with paints and large sheets of paper, and that's when it all started I made my first paintings. I started painting in the same neighborhood where my father was born and my grandfather Erling Roberts, he began his career as an American painter in the 1930s. I later moved to Paris where my artistic journey with painting really began.
Current professional commitments?
Many I would say some see me involved in the making of some films but I don't reveal anything yet, for music I also have a new Italian band, thanks to the help of the great jazz musician Antonio Onorato And then I have the exhibition of my paintings in a gallery "Epipla." in Milan an exhibition space dedicated to the pursuit of the arts, at Via Sant'Antonio 2 on the corner with Via Larga (managed and founded by Annalisa Longa, an architect and antiquarian). On September 15 there will be the opening of the "Happy Trails" exhibition-a magical event not to be missed where there will be no shortage of surprises.